Description
Golden Age Project GA-47 MKII Large-diaphragm Tube Condenser Microphone
An Updated Take on the Classic '47
When the Golden Age Project released the GA-47, it became an immediate hit. Now, with the new-and-improved GA-47 MKII Large-diaphragm Tube Condenser Microphone, it's an even better-sounding mic. The major difference between the original GA-47 and the MKII is the inclusion of a premium Roger's circuit board, in addition to old-school point-to-point wiring. The Golden Age Premier GA-47 MKII's sound has been honed through meticulous real-world testing to capture warm, sweet recordings. You've heard it on countless iconic sides from the Beatles, Michael Jackson, and Frank Sinatra, among others. Here at Sweetwater, we're particularly impressed with how the GA-47 MKII renders any recorded source with absolute authority.
Related Videos: GA-47 MKII Large-diaphragm Tube Condenser Microphone
Performs like a pro
Handcrafted in small production runs of 50 units, the Golden Age Premier GA-47 MKII is built for critical recording applications, and you can use it on any voice or instrument with confidence. Its 140dB maximum SPL lets you mic drums, dimed electric guitar amps, and other extremely loud sources without fear of overload. It lends authority to lead vocals, helping them to sit perfectly in the track and cut through the mix. The GA-47 MKII delivers huge, punchy kick drums and toms. Electric guitars are fat and beefy. Pianos, strings, brass, woodwinds, and percussion are rendered with life-like vitality. However you use it, the Golden Age Premier GA-47 MKII will perform like a pro.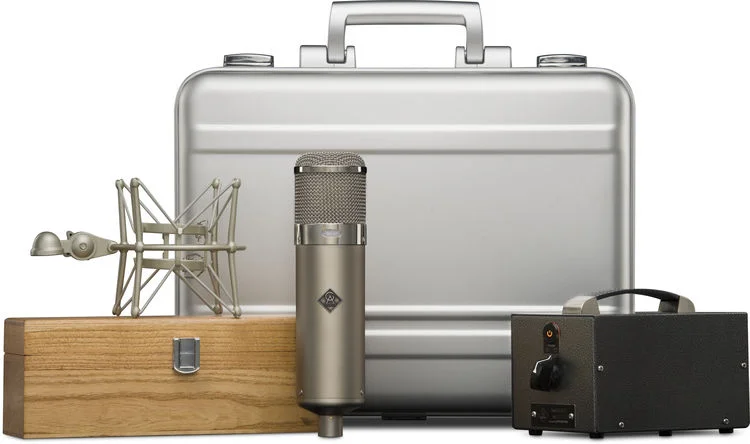 Hybrid capsule design
The build quality of the GA-47 MKII is, in a word, impressive. The microphone body is made of brass. Meanwhile, the iron grille's design closely mimics the originals, which is especially important given a microphone's grille is a critical component that affects the mic's character. The GA-47 MKII's hybrid capsule design blends the characteristics of vintage K47 and K67 capsule types for modern recordings. The capsule is dual-sided to provide the GA-47 MKII with both cardioid and omnidirectional polar patterns — just like the original '47 — to give you tremendous latitude in your recording techniques. In order to ensure consistency between units, approximately 200 capsules are evaluated for each production run in order to select 50 capsules with specifications that lie within the GA-47's tight tolerance specifications.
Vintage-spec tube and transformer
Like the original version, the GA-47 MKII uses a NOS Telefunken EF-800 series pentode tube. The EF-800 is an incredibly quiet tube on its own, but since its connected in triode mode, noise and distortion are all but eliminated. The GA-47 MKII is also equipped with a replica BV8 transformer — the same that was used in the vintage '47s. The dual-bobbin output transformer helps the GA-47 MKII deliver its world-class sound.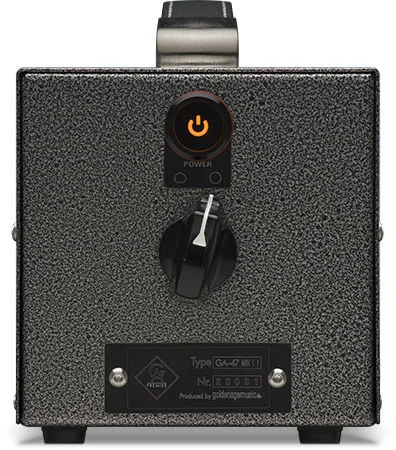 The best of vintage and modern
We all agree that vintage gear sounds authentically awesome, but the reality is that manufacturing materials and precision back then were not up to today's standards. With the design of the GA-47 MKII, Golden Age takes a "best of vintage and modern" approach. The circuit is mostly assembled using point-to-point wiring with the addition of a high-quality Rogers circuit board. The vintage-style, low-noise power supply unit employs a high-power R-style transformer and electrolytic capacitors that are right at home in high-quality studios.
The Golden Age Project
The Golden Age Project was founded in 2005 on the belief that vintage gear sounds best, and the desire to pass on this sonic legacy to a new generation of musicians, engineers, and producers. All discrete, Class A signal paths with no integrated circuits; the use of transformers, stepped controls, and military-grade build quality: these are the cornerstones of the legendary British equipment deployed in world-class recording and broadcast studios in the 1970s — the Golden Age of Analog. Fat, warm, punchy, and authoritative — this is the sound heard on countless hits. Locating, purchasing, restoring, and maintaining vintage gear is time-consuming and costly. Fortunately, this small, family-owned Swedish company makes gear the same way it was made back in the day — at an amazingly gentle price.
A distributor of high-end studio equipment for many years, Golden Age Project founder Bo Medin wanted to be able to offer products with much of the same exclusive sound in a price range that made them available to a larger audience. Inspired by original designs, Golden Age uses modern technology to re-create that lush, opulent sound, making it surprisingly affordable. They use some modern ingenuity to add new functionality to superb classic designs and produce them in a cost-effective way, which allows them to be both optimized and affordable. From outboard equipment to condenser, dynamic, and ribbon mics, you can outfit your entire studio with vintage-inspired Golden Age gear without exceeding your budget.
Golden Age Project GA-47 MKII Large-diaphragm Tube Condenser Microphone Features:
No-compromise, high-end components deliver an authentic vintage sound
Handcrafted in small production runs of 50 units to ensure world-class build quality
Simplified internal wiring with Rogers circuit board increases reliability and long-term sonic stability
Selectable cardioid and omnidirectional polar patterns give you multiple recording options
All soldering points made with Mundorf Msolder Supreme SilverGold solder
Tight manufacturing tolerances for excellent unit-to-unit consistency
The sensitivity of the front and back side of the capsule do not differ more than 0.3dB
Includes an external PSU and connecting cable, shockmount, microphone box, and metal flight case
Max SPL: 140dB
Tech Specs
Microphone Type:

Tube Condenser

Polar Pattern:

Cardioid, Omnidirectional

Frequency Response:

20Hz-20kHz

Max SPL:

140 dB SPL

Output Impedance:

200 ohms

Sensitivity:

12mV/Pa

Self Noise:

10dB

Tube:

Telefunken EF-800

Included Accessories:

Shockmount, Microphone Box, Metal Flight Case

Manufacturer Part Number:

GA47MKII