Description
Slate Digital VMS Virtual Microphone System
Your Virtual High-end Mic Locker
What would you pay for a locker full of coveted, mint-condition vintage microphones and high-end modern classics? While you're calculating that, we'd like to tell you about an alluring alternative. The Slate Digital VMS Virtual Microphone System includes an extremely transparent microphone, a sonically neutral preamp, and Slate's amazing VMS microphone/preamp modeling software — and it puts a world-class virtual mic locker in your recording rig at an amazing price.
Very few recording engineers ever get to own all the microphones or preamps they'd like to have, but with the Slate Digital VMS Virtual Microphone System, getting your hands on the sounds you want has never been as easy or as affordable. The system includes the ML-1, an extremely transparent large-diaphragm condenser microphone, and the VMS-ONE, a sonically neutral preamplifier. This delivers a coloration-free signal that, when routed through Slate's VMS microphone/preamp modeling software, gives you a mouthwatering selection of microphone models ranging from coveted tube classics (the FG-47 and FG-251) to a modern ultra-fidelity condenser (the FG-800). Slate's Virtual Preamp Collection includes the FG-73, modeled after a legendary British discrete solid-state console preamp; and the FG76, modeled after a classic vintage tube pre.

Choose your ideal signal path
Setting up for a vocal overdub session? How would you like access to a coveted German large-diaphragm condenser mic from the early 1960s? No problem. Why not pair that with the channel strip preamp from a classic '70s British console? Done. Using advanced physical modeling and state-of-the-art digital signal processing techniques, this hybrid microphone and preamp modeling system gives you access to virtually any signal-path tone you can imagine.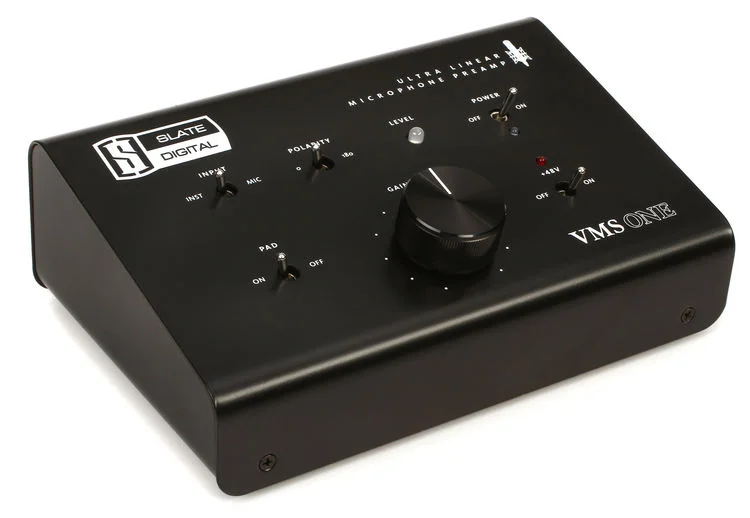 Breakthrough hybrid modeling: the key to VMS
The system includes the extremely transparent ML-1 large-diaphragm condenser microphone, which is completely devoid of coloration. The sonically neutral VMS-ONE Linear Preamp ensures minimal coloration, giving you a clean slate for preamp modeling. The VMS plug-in software lets you completely change the tonal characteristics of your recording, even after the fact. Choose from a massive collection of classic vintage mic and preamp models, as well as unique models for advanced recording techniques. You can re-create countless iconic recording chains most engineers can only dream of getting their hands on!
Slate Digital VMS Virtual Microphone System Features:
Hybrid microphone and preamp modeling system
Gives you access to virtually any signal-path tone you can imagine
The ML-1, an extremely transparent large-diaphragm condenser mic
VMS-ONE, a sonically neutral, super-linear microphone preamplifier
VMS plug-in software, with a collection of classic mic and preamp models
Software requirements: Mac OS 10.7 and above; Windows 7 and above
Requires an iLok2 or iLok3 (not included) for authorization