Description
Kurzweil SP6
Following the standard of sonic excellence established by the Forte®, Forte SE and PC3 series, the SP6, powered by the new LENA® processor, brings your performance to new heights with its astonishing sound quality, light-weight, depth of control and simple operation – all within easy reach.
Rediscover the Joy of Playing
Whether you're rocking Rachmaninoff or a blistering synth lead, keyboard feel is everything. As your fingers glide across the Kurzweil SP6's 88 weighted-hammer-action keys, you're rediscovering the joy of playing. The sonic performance is brilliant across the board; from the high-definition Japanese C7, German D, and Triple Strike acoustic concert grands, to electric piano, clavinet, harpsichord, celeste, crotales — and more, including PC3 series and Kore 64 expansions. Add reverb from the onboard multi-FX engine. Mobilize any of eight arpeggiators. There are so many more powerful features, yet the SP6 is quick and easy to navigate. And weighing in at under 27 pounds, the Kurzweil SP6 is makes a great gigging keyboard.
Load sounds instantly with FlashPlay technology
You've got 2GB of killer sounds in the Kurzweil SP6, and the best part is that you can load any sound instantly. Kurzweil calls it FlashPlay technology, and it means you'll never slow down or botch a performance due to loading times. Kurzweil knows what you need to perform with confidence, and you get it all in the SP6.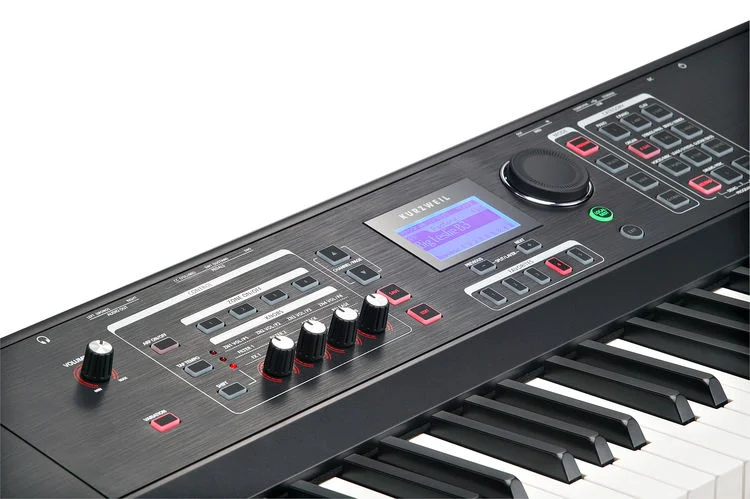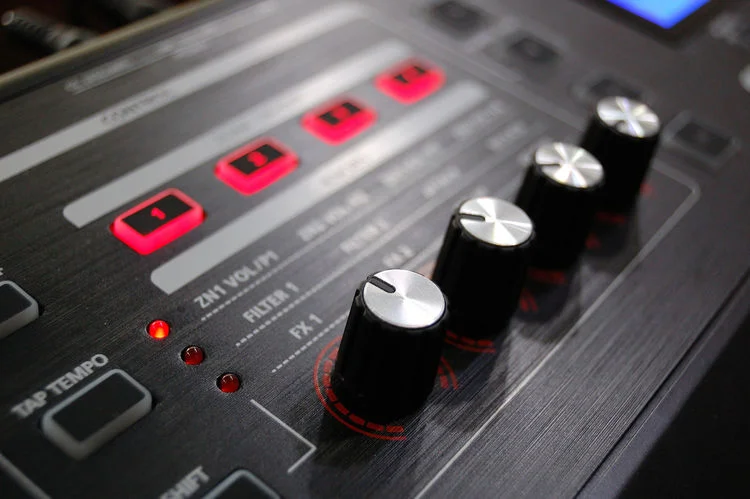 Packed with powerful features — and control
When you're performing onstage, you don't need a stage piano that fights you back. To that end, Kurzweil fortified the SP6 with a powerful feature set that not only loads sounds instantly, it lets you navigate fast. The onboard FX Engine delivers a full range of editable effects, from reverbs, delays, and dynamics to rotary speaker simulation for your organ patches. Eight arpeggiators let you whip up compelling rhythmic patterns quickly. And to command it all, you get 20 fully programmable physical controllers.
Dynamically-allocated polyphony for seamless sonic performance
While it's not a new feature for Kurzweil, it's one of our favorites here at Sweetwater: dynamic allocation of polyphony. The implementation of this technology in the SP6 means you'll never hear notes "drop off" when you reach maximum polyphony. So even if you're playing heavily-layered sounds with lots of effects, the SP6 is selective about which voices to drop in favor of new ones. You don't really need to think about it, but it's a huge deal when you hear how seamless and natural performances sound even with complex layered patches.
Kurzweil SP6 88-key Stage Piano Features:
16-part multitimbral stage piano
88-note weighted-hammer-action keybed
10 selectable key velocity maps
128-voice polyphony with dynamic allocation
2GB of sample content
High-definition Japanese Grand and German D Grand pianos
Broad selection of acclaimed sounds from the Forte SE, PC3, KORE 64
Electric piano, clavinet, harpsichord, celeste, and crotales
KB3 ToneReal organs
Flash-Play boots in 11 sec, with zero-load time and powerful DSP
PC3 series and Kore 64 expansions
Powerful effects engine with 32 FX units
20 fully programmable MIDI controllers
Pitchbend and Mod wheels
Kurzweil String Resonance (KSR)
4 Arpeggiators; Dedicated +/- Transpose buttons
Easy Category sound selection; Favorites section
Lightweight — only 27 pounds
Keyboard:

88 note fully-weighted hammer-action with velocity sensitive keys

Display:

128×64 pixel monochrome LCD

Polyphony:

128 voice polyphony, dynamically allocated

Multitimbral:

16 parts (one per MIDI channel)

Architecture:

VAST: Variable Architecture Synthesis Technology

KB3: ToneReal emulation

VA1: anti-aliasing, power-shaped oscillators and DSP processing from Kurzweil's VA1 concept synth

Quick Split/Layer:

Easy access with adjustable relative volume (up to 4 zones)

Factory Programs:

256

User Programs:

1024

Factory Multis:

130

User Multis:

1024

Favorites:

5

Compatibility:

100% compatibility with Forte SE programs
Load sounds from the Forte and PC3 family programs**(some restrictions apply)

General MIDI:

No

Kurzweil String Resonance:

Yes

Piano Damper Noise:

Yes

Effects:

Hundreds of complex effect chains, incorporated into programs featuring our award winning effects – reverbs, delays, chorus, flange, phaser, EQs, distortions, rotary speaker simulators, compressors, and more
⋅32 total FX units

Controllers:

1 pitch wheel
1 modulation wheel
4 front panel knobs (configured as 4×3 = 12 virtual controls)
1 variation switch
1 arp switch
2 transpose switches
1 tap tempo switch
*2 dual-switch pedal inputs
1 continuous control pedal inputs*(1 switch/sustain pedal is included; supports dual switch and half-damper for pianos / dual & half-damper pedals sold separately)

Arpeggiators:

1-per Program, 4-per Multi

Analog Outputs:

• Two 1/4″ balanced TRS analog (32-bit DACs)

Headphones:

• 1 back-panel 1/4″ headphone output
• 130mW into 32 ohm headphones

MIDI:

In, Out

USB:

• Two USB ports (one A port / one B port)
• Complete MIDI functionality over USB
• User program/multi file transfer to/from PC/Mac/Flash Drive
• Operating System updates from PC/Mac/Flash Drive

Software Editors:

External editors for Mac OS X, Windows PC and iOS devices

FREE OS Updates:

OS updates over USB and/or Flash Drive

Included Accessories:

Power cable, Switch pedal, USB cable, (4) self adhesive feet

Height:

(5.75″) (14.6cm)

Depth:

(15″) (38.1cm)

Length:

(52.5″) (133.35cm)

Weight:

(27.25 lb.) (12.36 kg)

Power:

External Power Supply, 15VDC 2.5A