Description
Motu – Digital performer 10
5GB Instrument Library, Upgraded Pitch-shifting, Live Triggering, and More
MOTU's Digital Performer does it all — recording, editing, arranging, mixing, mastering, MIDI, and more. DP10 will take your music to its highest level, thanks to sophisticated features like Stretch Audio (powered by Zynaptiq's ZTX PRO technology), live triggering and looping, an enhanced Beat Detection 2.0 engine, VCA faders, a convenient content browser, an overhauled waveform editor, VST3 support, a scalable user interface, and more. You also get a 5GB sound library containing hundreds of virtual instruments. Digital Performer 10 is the professional's choice for songwriting, studio production, live performance, film and television soundtracks, post production, and surround mixing alike.
A professional choice for film scoring, post production, and music recording
Since 1990, MOTU's Digital Performer has been a staple of the film and music production industry — and for good reason! From its straightforward, tape-style recording layout to its advanced MIDI implementation and scoring capabilities, few other DAWs can claim as comprehensive a feature set as Digital Performer. Build full arrangements with a 5GB instrument library
DP10 is loaded with content — 5GB to be exact. This gargantuan sound library includes multi-sampled acoustic instruments, synths, loops, and phrases with over 300 different instruments, 1,100 instrument presets, and 500 loops. Build full arrangements with acoustic and electronic drum kits, pianos, guitars and basses, church organs, electric organs, strings, brass, woodwinds, synths, ethnic instruments, choirs, voices, percussion, sound effects, and more. Composers and arrangers will appreciate the versatility of this collection. It covers the full gamut of musical genres, eras, geographical regions, and cultures.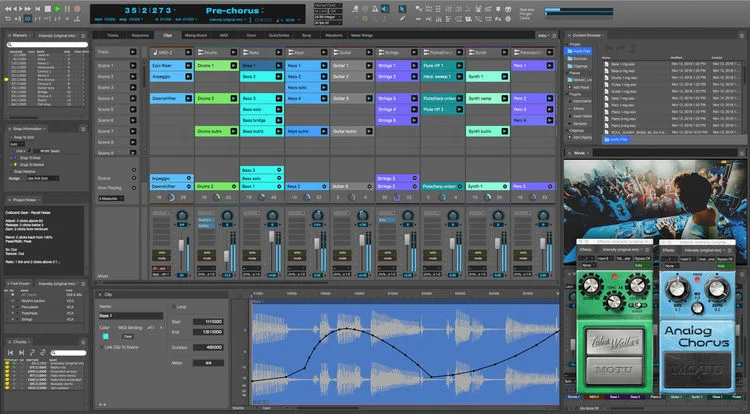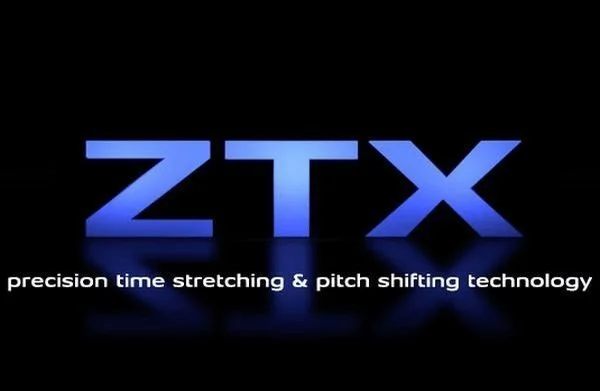 Stretch Audio powered by Zynaptiq ZTX PRO technology
Digital Performer 10 includes a powerful Stretch edit layer, powered by Zynaptiq's acclaimed ZTX PRO. Drag individual beats and their anchor points to make precision adjustments. Or enable Stretch Audio on a per-track basis for global tempo control, and the entire audio track will conform to your project's tempo and timeline — instantly. You can even make gradual tempo changes over time. ZTX PRO provides high-quality time stretching and pitch shifting, even at extreme settings.
Live triggering and looping with the Clips window
DP has always been a top-shelf DAW, but with version 10, it's also a full-fledged performance instrument. Effortlessly drag and drop audio and MIDI clips from the content browser into Clips window cells, then trigger and loop them in real time. Deliver engaging interactive live performances or reap the benefits of instantaneous, on-the-fly inspiration while creating your music.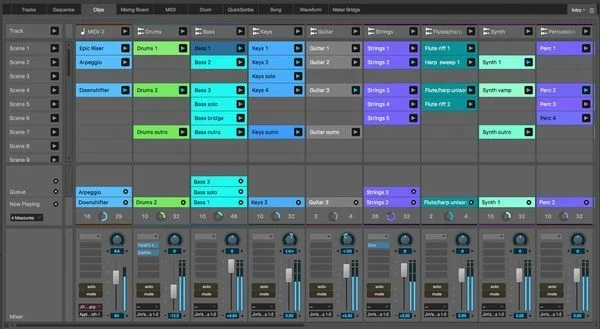 Turbocharge your studio's workflow with exciting new features
There are lots of new goodies included with Digital Performer 10. Instantly conform imported audio to your project's tempo with the enhanced Beat Detection 2.0 engine. Group tracks together and control them with VCA faders. Dive deep into sound files with an overhauled waveform editor. Edit with blazing-fast speed. Gain instant access to any feature in Digital Performer by typing into the Run Command text bar. Region menu presets, programmable skip buttons, enhanced grid snapping, detailed MIDI note display preferences, and a scalable user interface are also included with DP10 — it's the most powerful version of Digital Performer yet.
MOTU Digital Performer 10 DAW Software Features:
Award-winning DAW software that's perfect for recording audio, scoring music, and arranging sound for post production
Powerful audio recording and MIDI sequencing that's only limited by your computer's capabilities
5GB instrument library gives you everything you need to build full arrangements
Stretch Audio powered by Zynaptiq ZTX PRO time-stretching and pitch-shifting technology
Beat Detection 2.0 engine instantly conforms imported audio to your project's tempo
Clips window for live triggering and looping
VCA faders enable you to group tracks together and control them
Built-in waveform editor gives you the ability to edit audio at its most basic level with absolute control
Togglable primary and alternate tools allow for blazing-fast editing
Run Command text bar permits instant access to any feature
Content browser makes managing your sound files a breeze
Region menu presets allow you to create and save presets for commonly applied settings
Programmable skip buttons can move the transport forward or backward by musical increments
Choose between relative or absolute grid snapping with dragging MIDI and audio
Detailed MIDI note display preferences
Flexible, scalable user interface lets you create and arrange your own environment to best suit your workflow
Consolidated window options let you instantly switch between complete layouts
Themes let you change the look of your workspace with a single click
Nondestructive track comping lets you easily organize and manage multiple takes on a single track
Enhanced video engine lets you view full 720 or 1080 HD video clips on your main or secondary monitor
In-line mixing layout makes controlling levels, adding plug-ins, and setting up monitoring easy
QuickScribe Music Notation gives you accurate real-time MIDI transcription and advanced tools for fine-tuning your score
MusicXML export works with popular notation applications like Finale and Sibelius
Effect Performance window lets you keep an eye on your system resources
Automation lanes to make writing automation easier
Spectral Display for analyzing frequency content
Create Tracks command lets you add multiple tracks to your project in one step
Floating plug-in windows keep plug-ins in front of all other DP windows
MIDI Learn function maps knobs, faders, and switches on your MIDI controller to audio plug-in parameters
Mute MIDI Notes function temporarily silences audio regions and MIDI notes, including multiple selected notes
Project Notes saves text notes in your DP project, rather than as a separate text document
Punch Guard automatic preroll/postroll recording prevents cutoff recordings from ruining takes
DP Control app for iOS devices gives you wireless control over your session
Track folders make managing your elaborate projects easy
Meter Bridge gives you a quick overview of all your levels
MIDI Keys lets you trigger MIDI notes without an external MIDI controller — perfect for on-the-go editing with a laptop
Audio Click lets you customize the sound and nature of your click track
Built-in pitch automation lets you add pitch correction and pitch-based effects
Plug-in effects include guitar amp and stompbox modeling, as well as processors for equalization, dynamics, reverb, and more
Sample-accurate timing and synchronization also makes DP perfect for live event triggering
AAF, OMF, XML file interchange options make collaboration easy